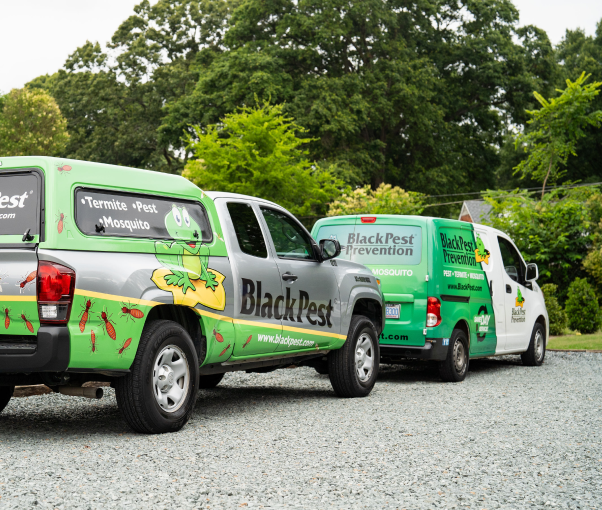 Protecting Your Home from Spider Infestations
As the saying goes, home is where the heart is. But sometimes, uninvited visitors make themselves at home too, jeopardizing your comfort. Spiders sneak into homes seeking shelter, sustenance, and warmth. It's not unusual to spot common species like house spiders or wolf spiders hidding in your cozy corners. While some are harmless, others, like the black widow, can pose a threat.
Nobody cherishes the experience of brushing past a web or spotting a creepy crawler on the wall. It's more than just a nuisance; it's about preserving the safety of your home.
At Black Pest, we value your comfort as much as you do. We're here to help you understand, and cope with the spider challenge, assuring a secure home, free from unwelcome eight-legged guests.
Same Day Service
Same Day Service Guarantee Monday - Friday, not including holidays.*
*Next day service guaranteed when you call before noon for service scheduled for Monday - Friday. Specialty services such as PreventionPlus® are not included, as preparation is needed prior to service. Same day service restrictions may apply for certain treatment plans.
Identify Your Pest
Keep your family safe & happy with our safe, effective and affordable service for all types of pests!
Our service areas
Black Pest Prevention offers expert pest control, termite control, and mosquito control. We have been safeguarding homes from ants, spiders, rodents, roaches, rats, mice, termites and mosquitoes since 1940.
Everything About Spider Infestations
Why are there so many spiders in my house?
Your cozy crib also offers the perfect pad for our eight-legged buddies. It's not that they're moving in because they're fond of your décor. Your place is just packed with all the great stuff they need - shelter, plenty of nooks and crannies to spin their webs, and a constant food supply (read: other bugs).
So, basically, your house is a one-stop shop for all things spider. The more inviting it is to other pests, the more likely you'll have a spider soiree happening at your place.
Do all spiders pose a risk to humans?
Nope! Here's the deal: the majority of our eight-legged friends are just that, friendly. While they may startle you with a surprise appearance in your bathtub, most spiders found in homes prefer bugs over people for dinner.
In fact, only a small handful, like the black widow or brown recluse, can cause significant harm to humans. However, keep in mind that reactions to spider bites can vary based on individual sensitivity. So, it's best to give spiders their space and avoid unwanted meet and greets.
What is the lifespan of a common house spider?
Common house spiders tend to live on the shorter side of the life spectrum. Their lifespan usually clocks in around 1 to 2 years. But in that time, they sure do make the most of it. Weaving webs, snacking on other pests, and popping up in unexpected places just when you least expect it. So, while they may not stick around for long, they sure do make an impact. Or at least, they give you a few good jumps!
How do I know if a spider bite is serious?
Here's your first clue: if there's pain, swelling, warmth, or pus... then it's time to RSVP to your doctor. This could be a sign of an infection.
It's always better to be safe than sorry. When in doubt, check it out… with a healthcare professional. Remember, we're all about spiders here, not medical advice!
Eco Friendly Pest Control
Black Pest works constantly to learn about the latest treatments and methods for responsible pest control that's family-friendly, pet-friendly, and environmentally sound.
We maintain a reputation for
You can Rely on us
100% Satisfaction Guarantee

We're not done until you feel comfortable in a pest-free home.

Safe and Effective Services

Black Pest Prevention gives you powerful and long lasting local pest control services all while treating your family, home and the environment with respect.

NPMA certified

Black Pest only uses NPMA certified technicians.
Read What Our Customers Have to Say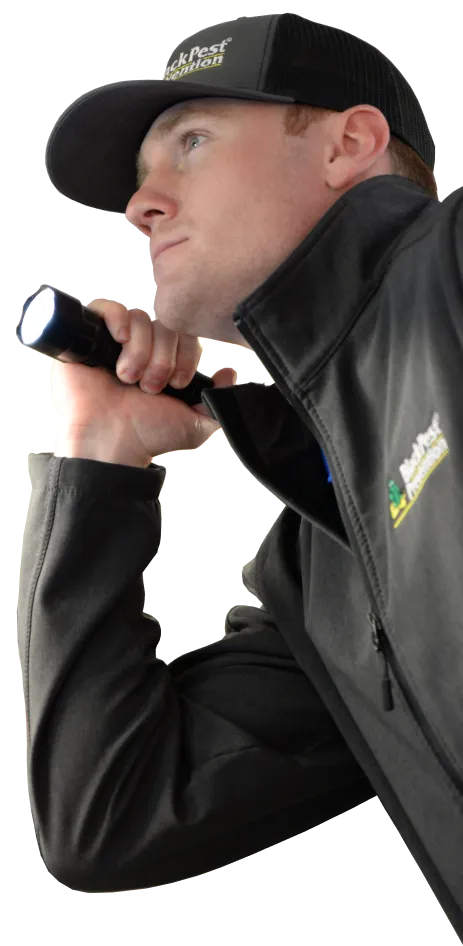 The staff was very friendly, professional and not pushy at all about the service. I would hire them in the future.
Brooke L.
I am a long time customer--always satisfied with the service. Last time however, there were still a few spiderwebs on the house-- I called and they sent someone out right away for a thorough redo. I am still a very satisfied customer. Great customer service from office to service staff.
Ruth Roper
Great! Everyone was considerate of my time and inconvenience. Also, every single person I spoke to or met was professional, courteous and friendly.
Cheryl B.
We've used Black Pest for the past 16yrs. Started with our first home and we've continued to use them for each home after moving twice. Always professional, easy to work with, their treatments are effective and in the few times we've needed additional treatments between scheduled visits, they've come out at no additional charge. Have recommended to many neighbors and friends who have same experience.
Kevin Reyes
I've used Black Pest for over 10 years and have never had a bad experience. They even respond when I call about seeing a bug or two in my house.
Sarah Noelke
Select Nearest location
CLOSE