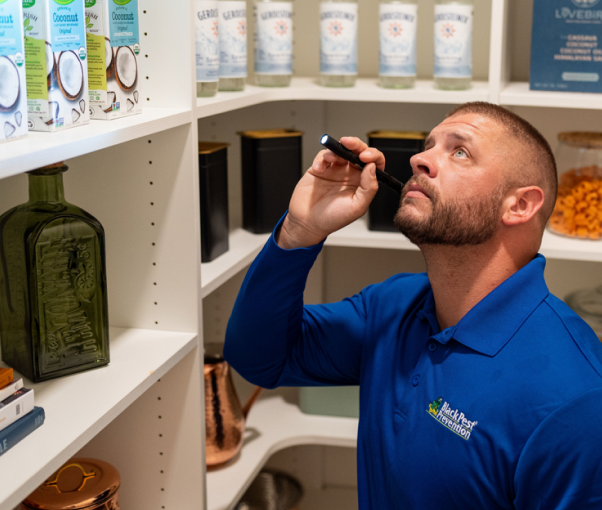 Meet Your Solution to Ant Trouble
Your home should be a haven, not a battleground overrun by pesky ants. That's where Black Pest Prevention comes in, your trusted comrade in the battle against these tiny intruders. Our team has the skills and expertise to handle a wide range of ant species that might disrupt your tranquility. Whether it's the common odorous house ant or the formidable fire ant, we've got your back!
But we don't stop at surface-level solutions. We dig deep to address the root of the problem. We provide guidance on simple housekeeping practices, like keeping your kitchen crumb-free and managing outdoor shrubs, to create an environment that ants find less appealing.
At our core, we value integrity, care, and professionalism. Our commitment to excellence extends to the safety of your family and pets, without compromising the quality of our treatments. We also take pride in our environmentally friendly approach.
We know the distress that an ant infestation can bring. That's why we offer a money-back guarantee. Our goal is to restore your comfort and peace of mind. So why wait? Reach out to Black Pest Prevention today and let us help you reclaim your home from those pesky ants once and for all!
Same Day Service
Same Day Service Guarantee Monday - Friday, not including holidays.*
*Next day service guaranteed when you call before noon for service scheduled for Monday - Friday. Specialty services such as PreventionPlus® are not included, as preparation is needed prior to service. Same day service restrictions may apply for certain treatment plans.
Identify Your Pest
Keep your family safe & happy with our safe, effective and affordable service for all types of pests!
Our service areas
Black Pest Prevention offers expert pest control, termite control, and mosquito control. We have been safeguarding homes from ants, spiders, rodents, roaches, rats, mice, termites and mosquitoes since 1940.
Dealing with Ants - FAQ
Why do ants suddenly appear?
Ants have an uncanny ability to appear seemingly out of nowhere. They typically show up when they're in search of food, attracted by even the tiniest crumb or drop of sweetness. Another reason for their sudden appearance is when their colony becomes too large and they need to expand their nesting locations. So, keep an eye out for tempting food sources and remember that ants are resourceful creatures!
What are common signs that indicate I might have an ant issue in my home?
Identifying an ant infestation in your home is crucial for prompt action. Look for telltale signs such as organized ant trails, those tiny soldiers marching through your house, especially concentrated around the kitchen area where they find snacks. Another clue is the presence of sandy or soil-like debris near your baseboards or window ledges, indicating a nearby ant nest. Being vigilant about these signs will help you address the issue effectively.
What is the best way to get rid of ants?
Dealing with ants can be a challenge, but with professional expertise, you can ensure effective ant control. At Black Pest Prevention, our team possesses extensive knowledge about different ant species and employs the most effective tactics to eliminate them. For instance, when dealing with odorous house ants, we focus on maintaining a crumb-free kitchen environment and removing any sources of standing water that attract them. Rely on our experts to tackle your ant problem efficiently.
What steps can I take to prevent a future ant invasion after treatment?
Prevention plays a vital role in keeping ants at bay even after treatment. Adopting cleanliness as your secret weapon, especially in kitchen and dining areas, is crucial. Ensure no crumbs are left behind and store your food in airtight containers to deny ants easy access. Outdoors, trim shrubs and trees away from your house to create a barrier and bid farewell to any unhealthy trees in the vicinity. By fortifying your home, you make it less appealing and harder for ants to infiltrate.
Are emergency services provided for sudden or severe ant problems?
Absolutely! Ant infestations can quickly escalate into a major problem, and that's where Black Pest Prevention comes to your rescue. We understand the urgency and offer emergency services to tackle sudden or severe ant issues. With our fast response team, we guarantee same-day service on any weekday (excluding holidays). Simply reach out to us, and we'll swiftly come to your aid, ensuring that your day is saved from the troublesome ants.
Eco Friendly Pest Control
Black Pest works constantly to learn about the latest treatments and methods for responsible pest control that's family-friendly, pet-friendly, and environmentally sound.
We maintain a reputation for
You can Rely on us
100% Satisfaction Guarantee

We're not done until you feel comfortable in a pest-free home.

Safe and Effective Services

Black Pest Prevention gives you powerful and long lasting local pest control services all while treating your family, home and the environment with respect.

NPMA certified

Black Pest only uses NPMA certified technicians.
Read What Our Customers Have to Say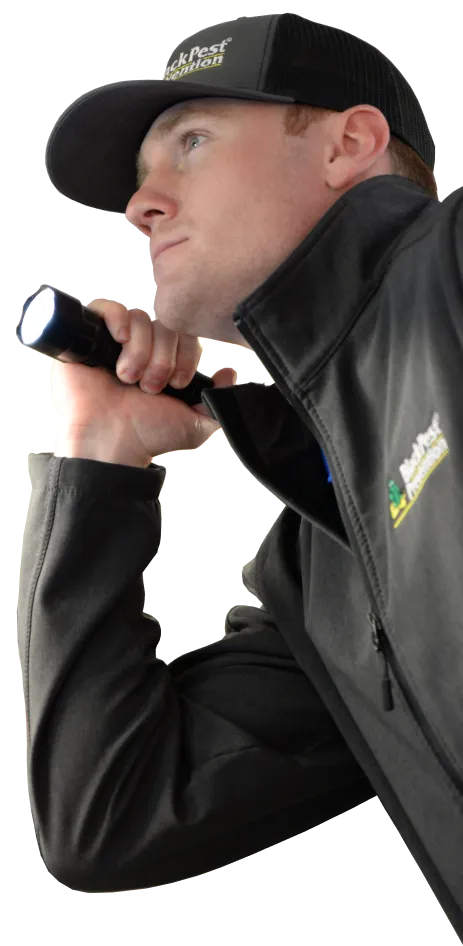 The staff was very friendly, professional and not pushy at all about the service. I would hire them in the future.
Brooke L.
I am a long time customer--always satisfied with the service. Last time however, there were still a few spiderwebs on the house-- I called and they sent someone out right away for a thorough redo. I am still a very satisfied customer. Great customer service from office to service staff.
Ruth Roper
Great! Everyone was considerate of my time and inconvenience. Also, every single person I spoke to or met was professional, courteous and friendly.
Cheryl B.
We've used Black Pest for the past 16yrs. Started with our first home and we've continued to use them for each home after moving twice. Always professional, easy to work with, their treatments are effective and in the few times we've needed additional treatments between scheduled visits, they've come out at no additional charge. Have recommended to many neighbors and friends who have same experience.
Kevin Reyes
I've used Black Pest for over 10 years and have never had a bad experience. They even respond when I call about seeing a bug or two in my house.
Sarah Noelke
Select Nearest location
CLOSE