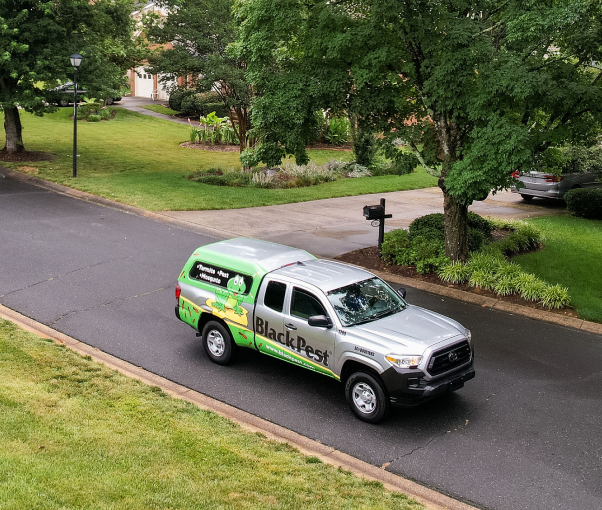 Winning the Battle Against Rats, with Black Pest at Your Side
Unwelcome rats on your property? No fear, Black Pest is here! We've been reclaiming homes from pesky intruders since 1940 with our tailored strategies. Our friendly, community-centered service ensures that the only cheese nibbler in your house is you, not some long-tailed gatecrasher.
Our approach to getting rid of rats uses top-tier, pet-safe treatments that protect your loved ones while tackling the problem. But it doesn't stop there. We arm you with knowledge and prevention strategies because knowing your foe is half the battle won.
So let's kick out those rats together. With Black Pest, victory is assured!
Same Day Service
Same Day Service Guarantee Monday - Friday, not including holidays.*
*Next day service guaranteed when you call before noon for service scheduled for Monday - Friday. Specialty services such as PreventionPlus® are not included, as preparation is needed prior to service. Same day service restrictions may apply for certain treatment plans.
Identify Your Pest
Keep your family safe & happy with our safe, effective and affordable service for all types of pests!
Our service areas
Black Pest Prevention offers expert pest control, termite control, and mosquito control. We have been safeguarding homes from ants, spiders, rodents, roaches, rats, mice, termites and mosquitoes since 1940.
Getting Rid of Rats: Common Questions
Why is it essential to address a rat problem quickly?
It's like having uninvited guests who never leave, right? But these party crashers can also bring a plus one you didn't expect - health hazards. Our tiny gatecrashers are capable of carrying diseases that can pose risks to you and your family. Oh, they love remodeling too, gnawing their way through walls, insulation, and even electrical wiring.
So if you're keen on keeping your dream home just the way it is and want to stay on the healthier side of life, it's time to say goodbye to these uninvited guests, and fast!
What signs indicate a rat presence in my home?
There are moments when you just know you've got unexpected guests, like those tiny tell-tale droppings that look like a very unappetizing trail of burnt rice. Or, maybe you've noticed your kitchen cabinets looking like they've been through a shredder.
And if you're wondering why your home suddenly smells like a forgotten gym bag? That could be 'eau de rodent'. And let's not forget the midnight scurrying and scratching soundtracks. These are some signs, you're sharing your home with rats. Oh, and your pet acting weird? They might be trying to tell you something.
What preventive measures can homeowners take against rats?
Keeping rats at bay requires a little strategic thinking and a good clean-up game plan. Start by cutting their access points. Think of it as securing your home from unwanted guests. Check your doors, windows, and vents. Next, take a look outside. Your lovely garden can be a rodent buffet if not properly managed.
Trim your trees, clean your yard, and secure your garbage. On the menu of rat repellents? Mint. It's like kryptonite to these critters. And lastly, consider adopting a furry friend. Cats can be an excellent rodent deterrent, even if you don't get an expert hunter; and bonus, they're pretty darn cute!
Are Black Pest's treatments safe for children and pets?
Absolutely! At Black Pest, the health of your family, including the four-legged members, is our priority. We've swapped out old-school, harmful chemicals with modern, pet-friendly alternatives. The scary images from yesteryears are just that, old myths.
Our treatments are designed to bother pests, not pets. So you can sit back, let us handle the rat conundrum, and enjoy peace of mind knowing we've got everyone's safety covered!
Why are rats attracted to my home?
If rats are flocking to your home, two factors are probably luring them in: food and shelter. Simple as that. Just like us, these whiskered freeloaders need grub and a cozy space, especially when the winter chill is nipping at their tails.
They're not choosy about their accommodations, and if there's easy food access, all the better! Black Pest's services can help deter these uninvited guests, ensuring your home doesn't turn into a rat's paradise.
Eco Friendly Pest Control
Black Pest works constantly to learn about the latest treatments and methods for responsible pest control that's family-friendly, pet-friendly, and environmentally sound.
We maintain a reputation for
You can Rely on us
100% Satisfaction Guarantee

We're not done until you feel comfortable in a pest-free home.

Safe and Effective Services

Black Pest Prevention gives you powerful and long lasting local pest control services all while treating your family, home and the environment with respect.

NPMA certified

Black Pest only uses NPMA certified technicians.
Read What Our Customers Have to Say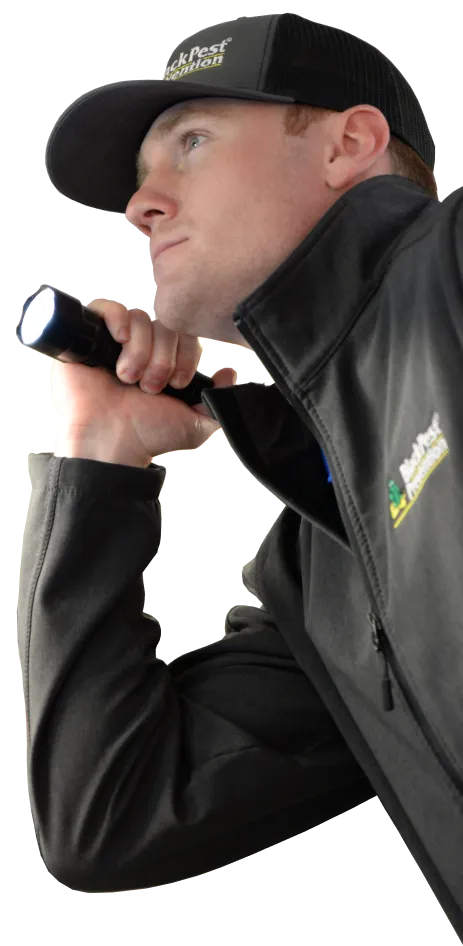 The staff was very friendly, professional and not pushy at all about the service. I would hire them in the future.
Brooke L.
I am a long time customer--always satisfied with the service. Last time however, there were still a few spiderwebs on the house-- I called and they sent someone out right away for a thorough redo. I am still a very satisfied customer. Great customer service from office to service staff.
Ruth Roper
Great! Everyone was considerate of my time and inconvenience. Also, every single person I spoke to or met was professional, courteous and friendly.
Cheryl B.
We've used Black Pest for the past 16yrs. Started with our first home and we've continued to use them for each home after moving twice. Always professional, easy to work with, their treatments are effective and in the few times we've needed additional treatments between scheduled visits, they've come out at no additional charge. Have recommended to many neighbors and friends who have same experience.
Kevin Reyes
I've used Black Pest for over 10 years and have never had a bad experience. They even respond when I call about seeing a bug or two in my house.
Sarah Noelke
Select Nearest location
CLOSE