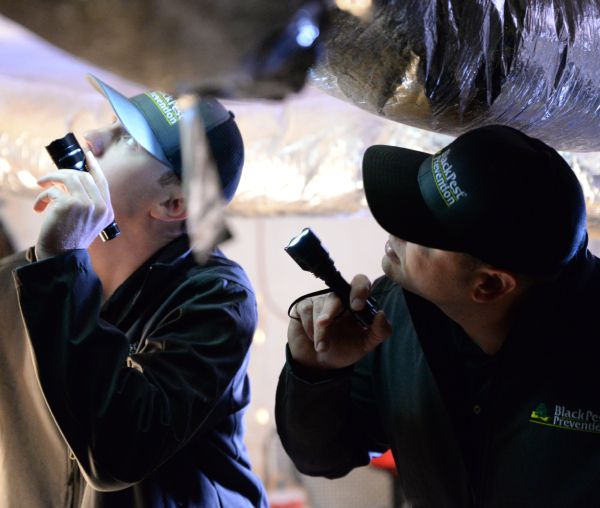 An Effective, Non-Invasive Solution for Termites
When those pesky termites decide to invade your home, you need a solution that gets the job done without putting your loved ones and furry friends at risk. That's where Black Pest Prevention comes in! We're your trusted partner in defending your property from these destructive little critters.
Our team of experts will conduct a thorough inspection to spot any signs of termite infestation. We've got tailored treatment plans that make use of the latest technologies, like the Trelona ATBS bait system by BASF, which zeroes in on those termite colonies without drilling or other invasive methods. Your home and the environment are safe in our hands.
But we're not just about solving the current termite trouble. We've got your back for the long haul! Our annual termite protection plan includes regular inspections and even a damage warranty.
We're a locally-owned company who genuinely cares about your well-being and the community. With over 80 years of expertise under our belts, you can trust us to be your termite experts. Reach out to us today and let's schedule an appointment!
Same Day Service
Same Day Service Guarantee Monday - Friday, not including holidays.*
*Next day service guaranteed when you call before noon for service scheduled for Monday - Friday. Specialty services such as PreventionPlus® are not included, as preparation is needed prior to service. Same day service restrictions may apply for certain treatment plans.
Identify Your Pest
Keep your family safe & happy with our safe, effective and affordable service for all types of pests!
Our service areas
Black Pest Prevention offers expert pest control, termite control, and mosquito control. We have been safeguarding homes from ants, spiders, rodents, roaches, rats, mice, termites and mosquitoes since 1940.
Termite Services - FAQ
What signs should I look for to identify a potential termite infestation in my home?
There are some real signs you need to watch out for. Keep an eye out for small piles of wings near your window sills. Also, if you notice hollowed or damaged wood, that could be a red flag. Also, don't ignore those mud tubes the termites build for transportation. Lastly, if you see any "bubbling" on your walls or floors, it might mean those termites are having a feast inside or below your place.
Are your termite treatment methods safe for my family and pets?
Absolutely, your safety is our top priority. We've taken all the necessary precautions to make sure our termite treatment methods are both effective and safe for your family and those furry companions. No invasive stuff here. We're all about targeting termite colonies directly.
Can you explain the Trelona ATBS bait system and how it works against termites?
The Trelona ATBS bait system by BASF is like nothing you've seen before. We strategically place bait stations around your home to lure termites in. Its active ingredient, Novaluron, doesn't simply reduce the number of termites but achieves ongoing structural protection through colony elimination. After visiting the stations and feeding, termites travel to the rest of the colony to share the new-found treats. In about 8 days, termites will have found 50% of the stations, and about 33 days to find 85% of them. And guess what? Those stations are perfectly safe for pets and keep working to protect you from new colonies!
How do you prevent future termite infestations and provide long-term protection for my home?
Our annual termite protection plan is designed to keep those pests away for the long haul. We conduct regular inspections to catch any signs of termite activity early on. Plus, we ensure that the Trelona ATBS bait system works like a charm. We even provide a warranty against termite damage. It's our full package deal to keep your home termite-free.
Are termites active in winter?
Yes, those critters can still be up to no good in the winter. Especially in warmer indoor environments, they don't take a break. They may slow down a bit in colder temperatures, but don't get it wrong: they don't hibernate. So, it's important to keep that year-round termite protection going strong to keep your home safe and sound.
Eco Friendly Pest Control
Black Pest works constantly to learn about the latest treatments and methods for responsible pest control that's family-friendly, pet-friendly, and environmentally sound.
We Maintain A Reputation For
You can Rely on us
100% Satisfaction Guarantee

We're not done until you feel comfortable in a pest-free home.

Safe and Effective Services

Black Pest Prevention gives you powerful and long lasting local pest control services all while treating your family, home and the environment with respect.

NPMA certified

Black Pest only uses NPMA certified technicians.
Read What Our Customers Have to Say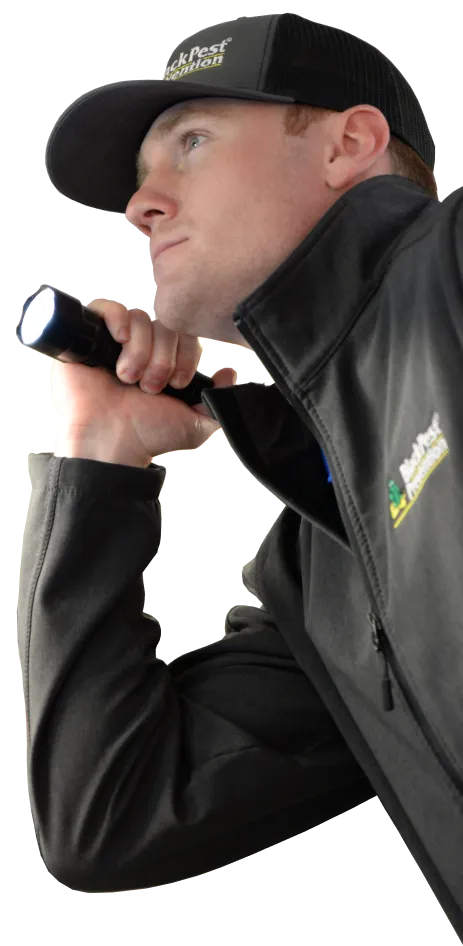 The staff was very friendly, professional and not pushy at all about the service. I would hire them in the future.
Brooke L.
I am a long time customer--always satisfied with the service. Last time however, there were still a few spiderwebs on the house-- I called and they sent someone out right away for a thorough redo. I am still a very satisfied customer. Great customer service from office to service staff.
Ruth Roper
Great! Everyone was considerate of my time and inconvenience. Also, every single person I spoke to or met was professional, courteous and friendly.
Cheryl B.
We've used Black Pest for the past 16yrs. Started with our first home and we've continued to use them for each home after moving twice. Always professional, easy to work with, their treatments are effective and in the few times we've needed additional treatments between scheduled visits, they've come out at no additional charge. Have recommended to many neighbors and friends who have same experience.
Kevin Reyes
I've used Black Pest for over 10 years and have never had a bad experience. They even respond when I call about seeing a bug or two in my house.
Sarah Noelke
Select Nearest location
CLOSE