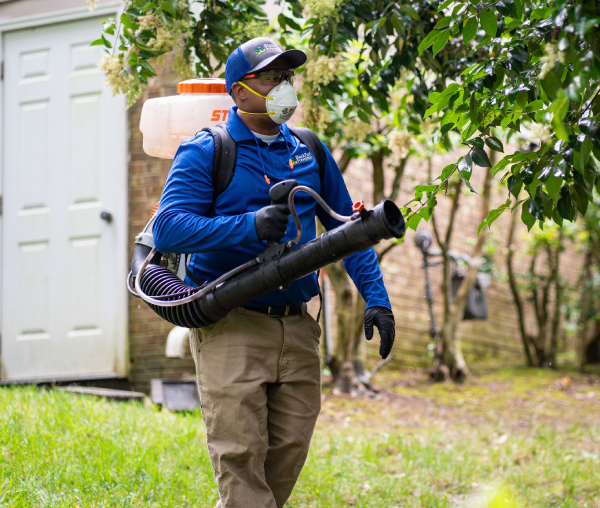 We're the Best Mosquito Management Company in the Area!
Got mosquitoes buzzing around your home, ruining your outdoor summer fun? Say hello to Black Pest, the family-owned business that's been safeguarding homes since 1940.
We believe in empowering homeowners with knowledge. What draws mosquitoes to your yard? Is it the lush greenery, standing water, or perhaps the subtle perfume of human activity? Did you know there are numerous types of mosquitoes around us, each bringing a different level of potential discomfort?
But don't worry, we're not just handing out trivia. At Black Pest, we offer tailored strategies for reducing mosquito populations without resorting to traditional methods. We use innovative, eco-friendly, pet-safe techniques that align with our belief in keeping our environment and your furry friends safe. So, come join us in creating a safer, mosquito-free living space!
Same Day Service
Same Day Service Guarantee Monday - Friday, not including holidays.*
*Next day service guaranteed when you call before noon for service scheduled for Monday - Friday. Specialty services such as PreventionPlus® are not included, as preparation is needed prior to service. Same day service restrictions may apply for certain treatment plans.
Identify Your Pest
Keep your family safe & happy with our safe, effective and affordable service for all types of pests!
Our service areas
Black Pest Prevention offers expert pest control, termite control, and mosquito control. We have been safeguarding homes from ants, spiders, rodents, roaches, rats, mice, termites and mosquitoes since 1940.
What You Need To Know About Mosquito Elimination
Why are mosquitoes attracted to my yard?
Let's be real, mosquitoes aren't into your BBQ, they're after something more fundamental: warmth and moisture. Your yard might be their five-star resort if it has any standing water (think kiddie pools, birdbaths, or even your dog's water bowl) or if you live near a creek or river.
The moisture serves as an ideal breeding ground for them. Not to mention, the heat from our southern sun is like a welcome mat. So, they're not intentionally trying to ruin your outdoor fun, they're just seeking their ideal spot!
What common illnesses can mosquitoes transmit?
You'd think mosquitoes would at least have the decency to bring a nice bottle of wine when they bite, but no, they come bearing less pleasant gifts. When these little party crashers take a sip, they might transmit a variety of unpleasant diseases, some of which include the infamous Zika virus, West Nile virus, and Chikungunya virus. And let's not forget about dengue and malaria.
Although most folks might not fall ill after a mosquito's nibble, some can experience mild to severe symptoms, and in rare instances, these diseases could even be life-threatening. So, no thank you, mosquitoes, we'd rather not accept your gifts.
Do mosquitoes serve any beneficial purpose?
Mosquitoes are annoying, yes, but it might surprise you that they're not just out there making cookouts unbearable. Despite their penchant for turning humans into pin cushions, they do serve a few beneficial roles in the ecosystem.
For starters, they're quite the help in managing other insect populations. They also moonlight as pollinators, spreading a little plant love around as they feed. But the biggest beneficiaries of their existence are likely the fish, frogs, and birds who dine on mosquito larvae. So, mosquitoes - still annoying, but with a few redeeming qualities.
Can mosquitoes breed inside my home?
Surely mosquitoes wouldn't dare to set up a nursery inside your home? Well, unfortunately, if you've got standing water indoors, they might just start browsing baby names. These little troublemakers don't need a pond or lake.
Even a small container holding water, like a forgotten dog bowl or that decorative vase in your living room, could be enough for mosquitoes to lay their eggs. Once hatched, the larvae develop into adults ready to continue the cycle. So, keep an eye out for standing water indoors. Remember, mosquitoes are the uninvited guests who don't know when to leave!
Eco Friendly Pest Control
Black Pest works constantly to learn about the latest treatments and methods for responsible pest control that's family-friendly, pet-friendly, and environmentally sound.
We Maintain A Reputation For
You can Rely on us
100% Satisfaction Guarantee

We're not done until you feel comfortable in a pest-free home.

Safe and Effective Services

Black Pest Prevention gives you powerful and long lasting local pest control services all while treating your family, home and the environment with respect.

NPMA certified

Black Pest only uses NPMA certified technicians.
Read What Our Customers Have to Say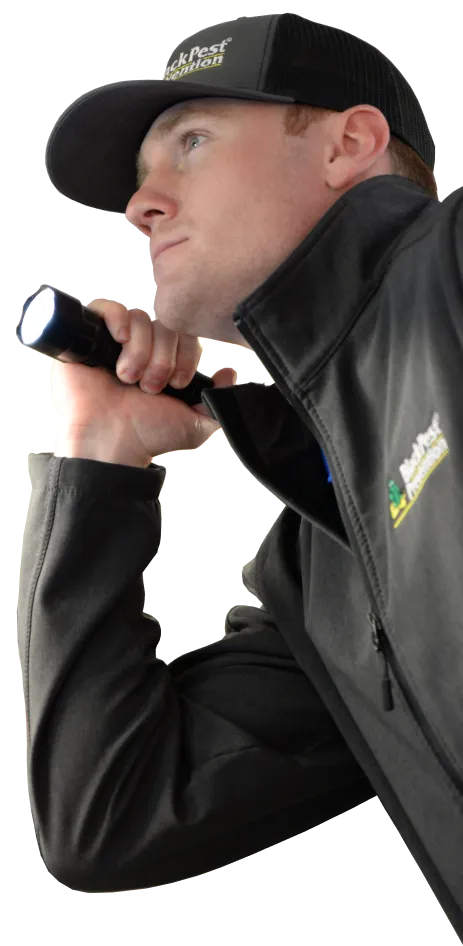 The staff was very friendly, professional and not pushy at all about the service. I would hire them in the future.
Brooke L.
I am a long time customer--always satisfied with the service. Last time however, there were still a few spiderwebs on the house-- I called and they sent someone out right away for a thorough redo. I am still a very satisfied customer. Great customer service from office to service staff.
Ruth Roper
Great! Everyone was considerate of my time and inconvenience. Also, every single person I spoke to or met was professional, courteous and friendly.
Cheryl B.
We've used Black Pest for the past 16yrs. Started with our first home and we've continued to use them for each home after moving twice. Always professional, easy to work with, their treatments are effective and in the few times we've needed additional treatments between scheduled visits, they've come out at no additional charge. Have recommended to many neighbors and friends who have same experience.
Kevin Reyes
I've used Black Pest for over 10 years and have never had a bad experience. They even respond when I call about seeing a bug or two in my house.
Sarah Noelke
Select Nearest location
CLOSE