Eco Friendly Pest Control
Black Pest works constantly to learn about the latest treatments and methods for responsible pest control that's family-friendly, pet-friendly, and environmentally sound.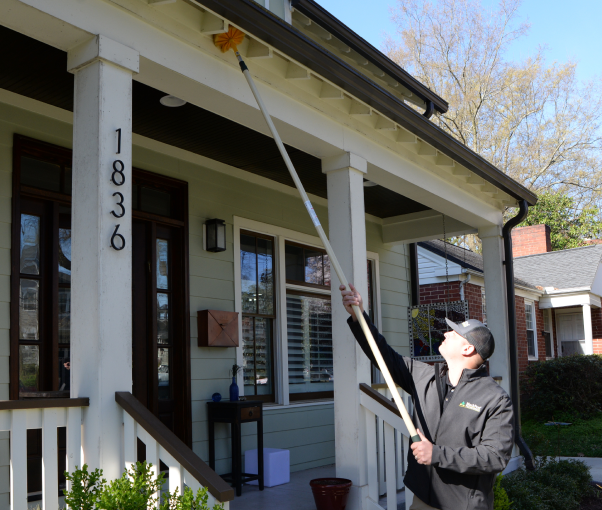 A Local Expert Extermination Service that Cares
Welcome to Black Pest Prevention, your top choice for reliable and effective extermination services in Charlotte, North Carolina.
With over 80 years of experience dealing with the unique pest-related challenges of our region, we take pride in having a team that truly cares. We won't only rid your home of local pests, but we will do it using high-end, eco-friendly, comprehensive methods that are completely safe for your family and pets. Moreover, we'll do it in the least disruptive way possible, so you can carry on with your daily life while we handle the problem.
Our professionals are not only seasoned exterminators, but they are also knowledgeable prevention experts. They will work with you to understand the tendencies of local pests like termites or mosquitoes, so we can stop infestations before they even reach your home.
Trust Black Pest Prevention – your local champion for a pest-free home!
About Our Services in Charlotte
What sets Black Pest Prevention apart from other extermination service providers in Charlotte?
At Black Pest Prevention we're committed to offering friendly and approachable service, combined with an emphasis on customer satisfaction and technician excellence. You speak directly to us, not to a middle person.
We care for your family's safety and work with you to find the least disruptive yet highly effective solution. We also stay up to date with the latest extermination technologies and services to ensure we offer the best possible solutions for your home.
How does Black Pest Prevention ensure the safety of my family and pets?
At Black Pest Prevention, your well-being comes first. We only utilize high-end, pet-safe methods that effectively target pests while being harmless to non-target species.
In addition, our integrated service focuses on preventing pest entry by targeting their habitats and breeding grounds outside your home. We guarantee that we will never put your children or animals at risk during our work.
Are your extermination methods environmentally friendly?
At Black Pest Prevention, we are committed to utilizing eco-friendly extermination methods. As early as 2000, we were pioneers in introducing environmentally friendly borates to the Carolinas, which have now become the industry standard. In 2012, we launched our green triannual service rotation and have been recognized by the EPA for our environmentally conscious methods.
Additionally, we acknowledge our shared responsibility to conserve water resources and operate sustainably in all of our processes. Our methods are specifically designed to effectively manage pests while minimizing environmental impact, ensuring a healthy environment for the families we serve.
How soon can you be at my home after I request your services?
When facing a pest infestation, you want it dealt with as soon as possible, which is why we offer a Same Day Service Guarantee from Monday to Friday, excluding holidays. If you prefer to schedule ahead and call us before noon between Monday and Friday, you can count on an exterminator at your doorstep the next day. Your peace of mind is our top priority.
How can I maintain a pest-free home after Black Pest Prevention's extermination services?
Maintaining a pest-free home involves a partnership. Black Pest Prevention's service targets areas where pests live and breed and includes a follow-up visit after a week to ensure everything is under control. Homeowners also play a crucial role.
Regular housekeeping practices, such as promptly disposing of trash, cleaning up food crumbs and spills, and reducing clutter all help deter pests. Sealing gaps around doors and windows and addressing moisture issues like leaks can also prevent pest entry and breeding.
Same Day Service
Same Day Service Guarantee Monday - Friday, not including holidays.*
*Next day service guaranteed when you call before noon for service scheduled for Monday - Friday. Specialty services such as PreventionPlus® are not included, as preparation is needed prior to service. Same day service restrictions may apply for certain treatment plans.
Identify Your Pest
Keep your family safe & happy with our safe, effective and affordable service for all types of pests!
We're Your Local Home Service Experts
You can Rely on us
100% Satisfaction Guarantee

We're not done until you feel comfortable in a pest-free home.

Safe and Effective Services

Black Pest Prevention gives you powerful and long lasting local pest control services all while treating your family, home and the environment with respect.

NPMA certified

Black Pest only uses NPMA certified technicians.
Read What Our Customers Have to Say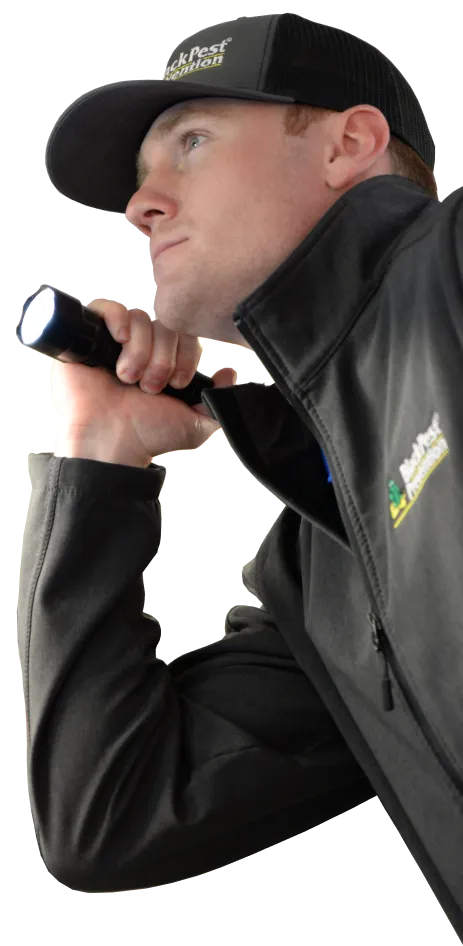 The staff was very friendly, professional and not pushy at all about the service. I would hire them in the future.
Brooke L.
I am a long time customer--always satisfied with the service. Last time however, there were still a few spiderwebs on the house-- I called and they sent someone out right away for a thorough redo. I am still a very satisfied customer. Great customer service from office to service staff.
Ruth Roper
Great! Everyone was considerate of my time and inconvenience. Also, every single person I spoke to or met was professional, courteous and friendly.
Cheryl B.
We've used Black Pest for the past 16yrs. Started with our first home and we've continued to use them for each home after moving twice. Always professional, easy to work with, their treatments are effective and in the few times we've needed additional treatments between scheduled visits, they've come out at no additional charge. Have recommended to many neighbors and friends who have same experience.
Kevin Reyes
I've used Black Pest for over 10 years and have never had a bad experience. They even respond when I call about seeing a bug or two in my house.
Sarah Noelke
Our service areas
Black Pest Prevention offers expert pest control, termite control, and mosquito control. We have been safeguarding homes from ants, spiders, rodents, roaches, rats, mice, termites and mosquitoes since 1940.
Select Nearest location
CLOSE