Termite extermination - FAQ
What are termites, and why are they a problem?
Termites are small, wood-eating insects that thrive in places like Charlotte due to the humid climate. These pests, frequently confused with white ants, are adept at silently deteriorating wooden structures. In Charlotte, termites pose a significant challenge due to the potential for extensive property damage; this is why termite control is a basic need.
While they serve a crucial role in nature by decomposing hard plant fibers and recycling dead trees and plants, their ability to digest cellulose makes them a threat when they target our homes and buildings. The need for effective termite extermination is paramount to safeguard properties from these relentless pests.
How can I tell if I have a termite infestation?
Recognizing a termite infestation early is crucial for effective termite exterminator service. Common signs that can point to the need for termite control include discarded wings from termite swarms, often found near windowsills or lights. Another indicator is the presence of mud tubes on exterior walls, which termites use as sheltered pathways.
Moreover, wood that sounds hollow when tapped or visibly damaged woodwork in your Charlotte property might hint at urgent termite extermination. It's also worth noting that frass or termite droppings are telltale signs. Given Charlotte's susceptibility to these pests, regular property checks and professional termite control services can aid in timely detection and termite extermination.
Are termites dangerous to humans?
Termites, while notorious for their destructive behavior in Charlotte properties, aren't directly harmful to humans. They don't bite or spread diseases. However, the real danger lies in the extensive structural damage they can inflict on Charlotte homes. Unchecked termite activity can weaken building foundations and wood structures over time, posing potential safety hazards.
Additionally, some individuals might experience allergic reactions or asthma symptoms from termite droppings or mold in termite-damaged wood. Therefore, it's vital for Charlotte residents to invest in effective termite extermination and regular inspections to safeguard their properties and ensure a healthy living environment.
What can I do to prevent termite infestations?
Preventing termite infestations requires proactive measures. Start by ensuring your property has proper drainage to keep the foundation dry. Reducing wood-to-ground contact, like wood piles or mulch near the home, can deter termite activity. Seal gaps in your home's foundation and maintain regular home maintenance to minimize attracting conditions.
It's also recommended for Charlotte residents to invest in professional inspections, as expert termite exterminators can spot potential vulnerabilities before they escalate. Homeowners can substantially reduce the risk of a costly infestation by understanding the specific challenges in Charlotte and utilizing effective termite control strategies.
Can termite control be applied in environmentally-friendly ways?
Absolutely, environmentally-friendly termite extermination methods are becoming increasingly popular in Charlotte. One approach is using beneficial nematodes, microscopic worms that naturally prey on termite larvae. Another green termite control method involves baiting systems, which include placing bait stations around the property to target termite colonies directly.
In Charlotte, where sustainability is valued, opting for non-chemical barriers like sand or crushed rock can prevent termite access. It's essential to choose termite control services that prioritize eco-friendly solutions, ensuring the safety of the environment, families, and pets while effectively handling termite extermination.
What are the benefits of termite control?
Investing in the best termite control is pivotal to safeguarding properties from potential destruction. Termites can rapidly compromise wooden structures, making them unsafe. By collaborating with a premier termite control company, you gain advanced protection against these pests. The right termite control company offers strategies tailored to your property, maximizing prevention and treatment.
The best termite control doesn't just address existing issues but also focuses on long-term prevention. Thus, enlisting a reputable termite control company not only prevents costly repairs but also ensures a termite-free environment for your Charlotte property.
How to find the best termite control providers?
Identifying the best termite control services requires keen attention. Start by browsing Charlotte-specific online reviews; this insight can lead you to top-notch termite control companies consistently earning accolades. Prioritize those termite control companies regularly updating their techniques, showcasing their dedication to modern, effective measures.
A closer look into each termite control company through consultations or their online presence further confirms their standing in providing the best termite control. Remember, in Charlotte, excellence in termite control isn't just about eliminating pests; it's also about client education, safety, and a proven satisfaction history.
Same Day Service
Same Day Service Guarantee Monday - Friday, not including holidays.*
*Next day service guaranteed when you call before noon for service scheduled for Monday - Friday. Specialty services such as PreventionPlus® are not included, as preparation is needed prior to service. Same day service restrictions may apply for certain treatment plans.
Identify Your Pest
Keep your family safe & happy with our safe, effective and affordable service for all types of pests!
We're Your Local Home Service Experts
You can Rely on us
100% Satisfaction Guarantee

We're not done until you feel comfortable in a pest-free home.

Safe and Effective Services

Black Pest Prevention gives you powerful and long lasting local pest control services all while treating your family, home and the environment with respect.

NPMA certified

Black Pest only uses NPMA certified technicians.
Eco Friendly Pest Control
Black Pest works constantly to learn about the latest treatments and methods for responsible pest control that's family-friendly, pet-friendly, and environmentally sound.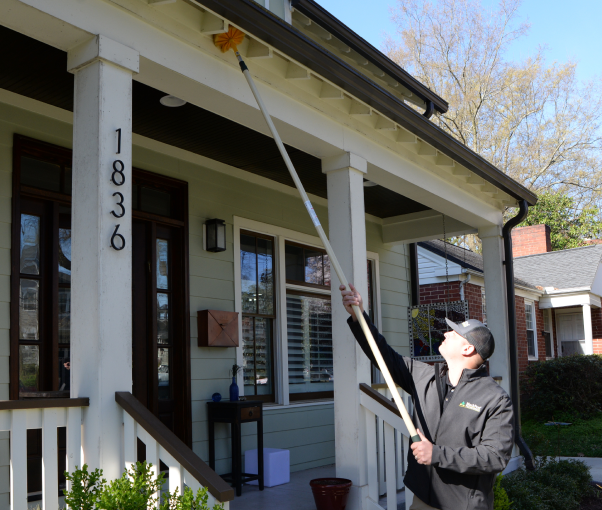 Protect your home with the best termite control services
Black Pest proudly offers top-tier termite control services tailored to the specific needs of Charlotte residents. The role of termite extermination in this region cannot be underestimated, given the considerable damage these small invaders can cause to local properties. Termites are not simply nuisances; they're capable of significant property damage, making termite control services a concern for Charlotte homes and businesses alike.
Our meticulous termite extermination methods are designed to address the complete extent of the issue, targeting both visible and concealed infestations. We are well-versed in the challenges of local termite control services and are committed to ensuring your property remains termite-free. This commitment has earned us recognition as leading providers of the best termite control services.
Don't let these pests erode your investment; rely on Black Pest for comprehensive termite control services!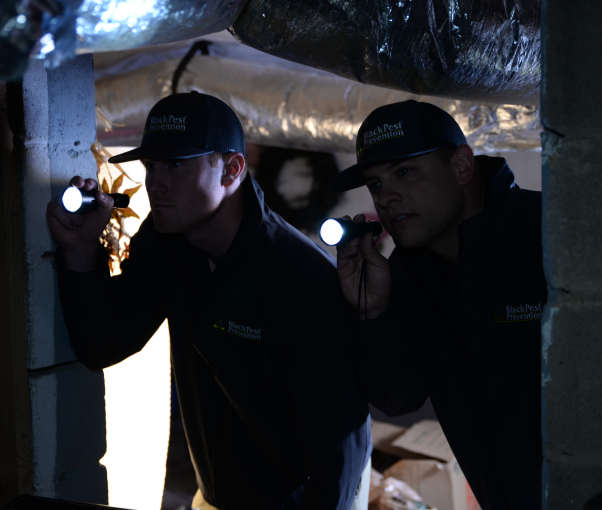 Signs you need to call us for termite extermination
Charlotte, NC, is home to several termite species, making termite extermination an essential service for residents.
Detecting an infestation in its early stages is part of the best termite control practices, and crucial for property protection. Common signs that you need termite control services include:
Discarded wings, typically observed during their swarming season
Mud tubes on walls or foundation
Unexplained wood damage, especially hollow-sounding timber
Swiftly addressing termite control issues with comprehensive termite control service measures ensures that the integrity of your property is not compromised.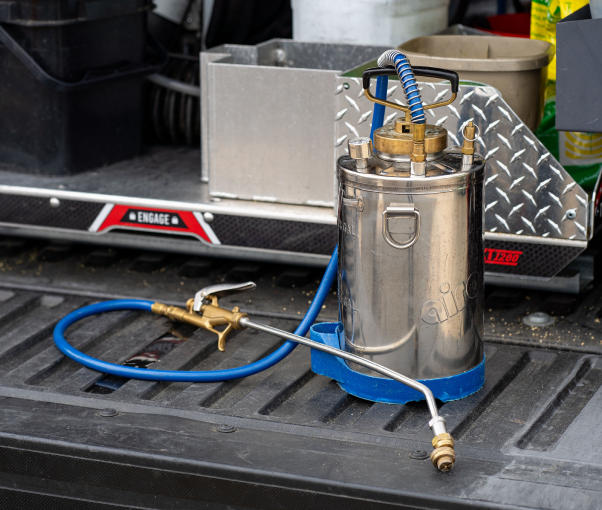 Comprehensive and safe termite control services
Black Pest's approach to termite control is rooted in deep expertise and a legacy of experience. The inspection process, previous to termite extermination, is driven by an in-depth understanding of the intricacies of the termite world.
We identify the core of infestations using advanced termite control technology, ensuring precision at every stage. And when it comes to treatment, we offer a wide spectrum of solutions. From liquid barrier treatments that shield your property to innovative baiting systems that lure and exterminate, our methods are thorough.
Yet, beyond efficacy, safety is paramount. Every termite control method we employ is eco-friendly, prioritizing the well-being of your family, pets, and our shared environment. We believe that the most effective termite exterminators are the ones that show thoroughness, compassion, and environmental consciousness.

Same Day Service
Same Day Service Guarantee Monday - Friday, not including holidays. Next day service is guaranteed when you call before noon for service scheduled for Monday - Friday. Specialty services such as PreventionPlus are not included, as preparation is needed prior to service.
Preventing long-term damage with termite control services
Termites, though small, possess an immense potential for structural damage. These quiet invaders can compromise your property's integrity, transforming solid foundations into hollow structures. Swift action is crucial. Detecting and addressing the need for termite control services in its early stages can prevent more extensive and potentially risky situations within your residence.
Prevention is always better than needing termite extermination. Here are some guidelines by our seasoned termite extermination specialists to protect your home:
Ensure you have proper drainage
Minimize moisture
Keep up with routine home maintenance
Store firewood away from the house
Avoid wood-to-soil contact around your property
While these practices are essential, the best termite control services, such as periodic inspections, are indispensable. A reputable termite control company like Black Pest can assist you in staying ahead of these unwanted visitors.
Why choose Black Pest as termite exterminators?
Black Pest has firmly established itself as the best termite control company in Charlotte. Our extensive experience is notable, but it's our industry certifications and affiliations that truly showcase our commitment to excellence in termite extermination.
We hold the belief that each property, each family, comes with distinct requirements. That's why our termite control services are far from one-size-fits-all. Instead, we meticulously tailor solutions, ensuring that every corner is shielded from these pesky invaders.
Choosing Black Pest isn't just about opting for the best termite exterminators; it's about ensuring peace of mind. Contact our termite control company today and experience cutting-edge solutions that prioritize your family and your home!
Charlotte Services
Eco Friendly Pest Control
Black Pest works constantly to learn about the latest treatments and methods for responsible pest control that's family-friendly, pet-friendly, and environmentally sound.
Read What Our Customers Have to Say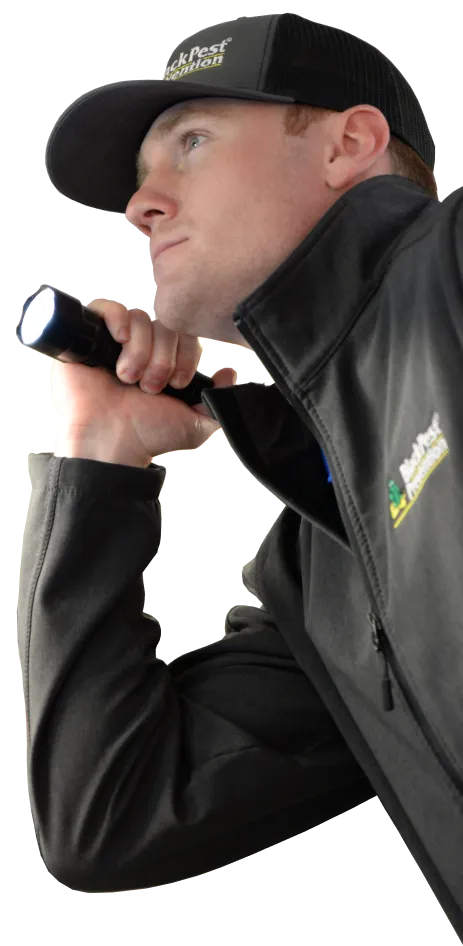 The staff was very friendly, professional and not pushy at all about the service. I would hire them in the future.
Brooke L.
I am a long time customer--always satisfied with the service. Last time however, there were still a few spiderwebs on the house-- I called and they sent someone out right away for a thorough redo. I am still a very satisfied customer. Great customer service from office to service staff.
Ruth Roper
Great! Everyone was considerate of my time and inconvenience. Also, every single person I spoke to or met was professional, courteous and friendly.
Cheryl B.
We've used Black Pest for the past 16yrs. Started with our first home and we've continued to use them for each home after moving twice. Always professional, easy to work with, their treatments are effective and in the few times we've needed additional treatments between scheduled visits, they've come out at no additional charge. Have recommended to many neighbors and friends who have same experience.
Kevin Reyes
I've used Black Pest for over 10 years and have never had a bad experience. They even respond when I call about seeing a bug or two in my house.
Sarah Noelke
Our service areas
Black Pest Prevention offers expert pest control, termite control, and mosquito control. We have been safeguarding homes from ants, spiders, rodents, roaches, rats, mice, termites and mosquitoes since 1940.
Select Nearest location
CLOSE